Foetal Alcohol Spectrum Disorders (FASD) is an umbrella term for several conditions that occur because of impacts on the brain and body of exposure to alcohol in the womb.
FASD occurs when a woman drinks alcohol when she is pregnant. There are no safe limits of alcohol to drink when you are pregnant.
Drinking in pregnancy does not affect all babies, but the more you drink the greater the risk.
FASD is a lifelong disability. People with FASD have their own unique areas of difficulties and may experience challenges in their daily living and need support with motor skills, physical health, learning, memory, attention, emotional regulation, and social skills.
They also have a unique set of strengths and show special talents and unlimited potential when nurtured and supported.
Children, Families & FASD
Children, birth mothers, and families often suffer the trauma of severance because of alcohol addiction and FASD. Many children affected end up in the care system, adopted or living with relatives.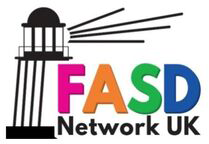 FASD Network UK have collated a series of stories from different perspectives about bringing up a child with FASD.
Catherine's Story : Foster Carer
Open / download the PDF
Sue's Story : Kinship Carer
Open / download the PDF
Charlotte's Story : Birth Mother
Open / download the PDF
Martyn's Story : Adoptive Dad
Open / download the PDF
FASD Network UK supports families who are raising children with Foetal Alcohol Spectrum Disorders, mainly in the North East of England and Yorkshire. FASD Network seeks to have influence and bring about change across the UK.
Women, Addiction & FASD
For women who are addicted to alcohol, pregnancy and motherhood can seem hopeless. Many women are driven to addiction because of abuse and trauma, often originating in childhood; yet addiction support services are generally shaped around the needs of men.
Towards addressing these issues, Addictions North East are developing a women's treatment program that is designed to meet the specific needs of women, supporting them to address issues including; abuse, violence, trauma, parenting concerns, building family relationships, self-esteem, and confidence, and regaining parental responsibilities if children are in the care system.